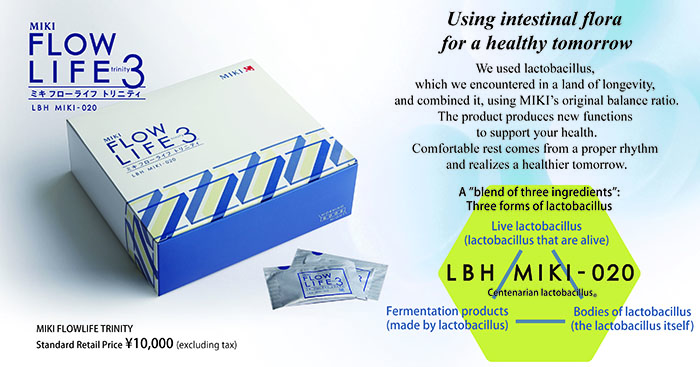 MIKI FLOWLIFE TRINITY
Eating well-balanced meals and engaging in an appropriate amount of exercise. Sleeping soundly at night without being affected by stress, and resting the mind and the body.
These are the natural rhythms that are imprinted in our body.
At a glance, "nutrition", "rest" and "physical exercise" appear to be elements that are independent of one another. However, as the elements become involved with each other, they all create favorable cycles, improving the physical and mental balance, and supporting people's health.


A blend of three ingredients that awakens our natural rhythm
We blended "living lactobacillus", "fermentation products", and "bodies of lactobacillus" that were obtained from Centenarian Lactobacillus® (LBH MIKI-020), with MIKI's unique balance.
The three ingredients form a trinity, and regulate the body's rhythm using the intestinal flora.
Research and development of Centenarian Lactobacillus® are being carried out at MIKI Research & Development Institute where theories about nature are utilized and passed on to MIKI Flow Life Trinity.


Ingredient analysis table
| | |
| --- | --- |
| Caloric value | 14kcal |
| Protein | 0.3g |
| Fat | 0.2g |
| Carbohydrates | 4.2g |
| Sodium | 0.001mg |
| | |
| | |
| --- | --- |
| Raw materials | Maltitol, Lactobacillus' fermentation products (starch syrup, soy milk, and others), lactobacillus' live bacteria powder, lactobacillus' ground product, lactose, yeast extract, theanine, calcium stearate, milk acid, flavoring agents (including milk constituent and soybean) |
| Content | 96g (600mg × 160 tablets) |
| Storage method | Store the product in a cool and dry place, away from direct sunlight or high temperatures. |
No artificial colorants or preservatives are used.
■How to take MIKI FLOWLIFE TRINITY
---
It can be eaten by itself.
■The amount of MIKI FLOWLIFE TRINITY to take
---
Take about 1-2 packs (containing 4 to 8 tablets) per day.
■Precautions
---
・Chew well before swallowing the product. Children and the elderly should be especially careful.
・Be careful not to cut your hands with the opening slit.
・Try to eat the product as quickly as possible after opening the package.
・If you eat too much at once, you may develop loose bowels.
・In rare instances, the product may not agree with you, depending on your constitutional predisposition or physical condition. In that case, please discontinue use.
・Grapefruit is used as a fragrance.