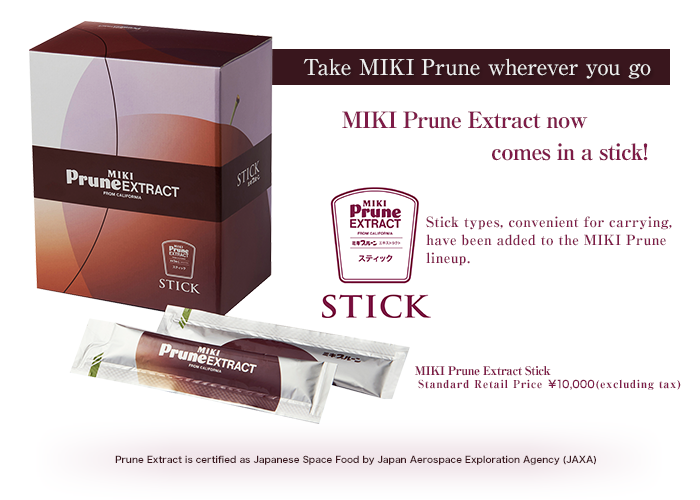 Prunes have long been called the "Fruit of Life" in the Caucasus in Western Asia. The region is the home of prunes and known for the longevity of its people. Later, prunes were taken to America and are now popularly enjoyed as a "miracle fruit."


Since it was released in 1972, MIKI Prune Extract has focused on achieving a balance of rich acidity and sweetness that people never grow tired of and has pursued a truly delicious taste.


Ingredient analysis table
| | |
| --- | --- |
| Caloric value | 49kcal |
| Protein | 0.4g |
| Fat | 0g |
| Carbohydrates | 12g |
| Sodium | 0~3mg |
| Potassium | 167mg |
| | |
| --- | --- |
| Raw materials | Dried Prune |
| Content | 1080g (18g × 60 sticks) |
| Storage method | Store the product in a cool and dry place, away from direct sunlight or high temperatures. |
No artificial colorants or preservatives are used.
■How to take MIKI Prune EXTRACT STICK
---
It can be eaten by itself, dissolved in water or juice, or used as an ingredient in a wide variety of dishes.
■The amount of MIKI Prune EXTRACT STICK to take
---
Take 3 sticks per day.
■Precautions
---
・The content may pop out when you open the stick package, so open it slowly and carefully. Be careful not to cut your mouth or hands with the corner of the stick or the opening the package.
・You may have loose stool if you eat too many MIKI Prunes at one time, or because of your physical constitution and/or condition.
・Slight differences in the product's viscosity may result because of the raw materials. Please be assured, however, that this does not affect the quality of the product in any way. The product is completely safe to eat.