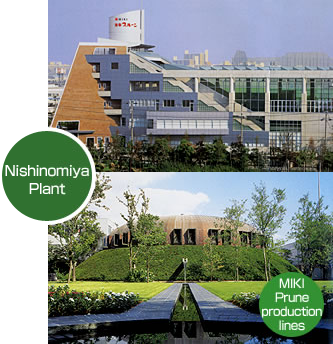 Our business is to work for people's life and death. We think it is important that our company should be a reliable one since we take up our customers' health as our theme. For the purpose, the environment of place of work has to be clean first of all. For instance, Nishinomiya Plant surrounded by many kinds of trees and flowers is harmonized with nature.
And the plant layout including the circle dome in which MIKI Prune is produced has been highly evaluated as to receive "The Prize of Urban Vista" from Nishinomiya City.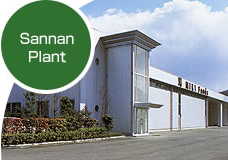 Sannan Town in Hyogo Prefecture, a town located in about the center of this prefecture with the bless of Nature. Sannan Plant is located in the clean sunshine and the clear air of the town, where MIKI Protein 95, MIKI Oligo Protein, MIKI Bio-C, etc. are produced.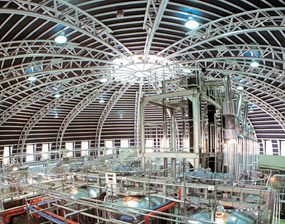 We think that good raw materials and good environment are inevitable to produce far better products. And "the building up of reliable technology and its maintenance are the must for the delivery of safe, reliable and responsible products. " Time is required for it and a lot of labor has also to be spent for machines and facilities. Nevertheless, we would like to enrich each production line and continue to cultivate technology. They are our basic policies in production of goods as well as our credit.
MIKI Prune production lines