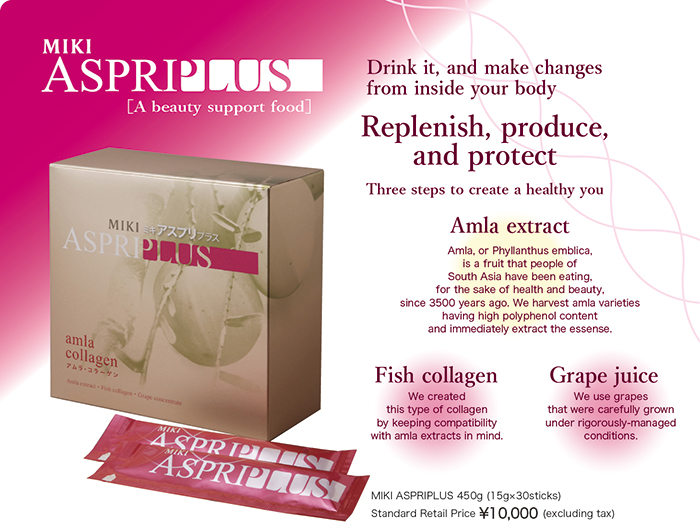 Replenish, produce and protect
The amount of collagen, one of the proteins that is used in the creation of a person's body, decreases with age.This is because the power to create collagen is lost as we age.

The three steps "replenish, produce, and protect" are essential. To provide these steps, we took note of the power which our bodies inherently have.


Take MIKI ASPRIPLUS, and make changes from inside the body
Amla is a fruit that the people of South Asia have been eating, for the sake of health and beauty, since 3500 years ago. We extracted essences from amla's fruit, and combined them with fish collagen that was produced by keeping its compatibility with amla in mind. And, to make sure that you can take it while enjoying its good taste, we added grape juice.


An MIKI ASPRIPLUS lifestyle, with additional ideas
MIKI ASPRIPLUS, a liquid supplement, comes in a smart stick, so you can take it conveniently anytime, anywhere, either as-is or by dissolving it in water and other beverages.

There are many other ways to enjoy MIKI ASPRIPLUS. Please use it in your daily meals.


Nutrition Facts (per 1stick(15g))
| | |
| --- | --- |
| Calories | 33kcal |
| Protein | 2.2g |
| Total fat | 0g |
| Total carbohydrate | 6.1g |
| Salt equivalent | 0-0.03g |
Ingredients

Grape juice, Amla extract, Fish collagen
Citric acid, Flavoring agents, (Contains traces of  Gelatin・Peach・Apple.)

Net weight

450 g (15g×30sticks)

Preservation

Keep away from direct sunlight and places with high temperature and humidity.Especially be careful during summer.
No artificial colorants or preservatives are used.
■How to take
---
Take it either as-is, or by dissolving it in water and other beverages. Please come up with a variety of other ideas to enjoy it and use it in your daily meals.
・Take from 1 to 3sticks per day.