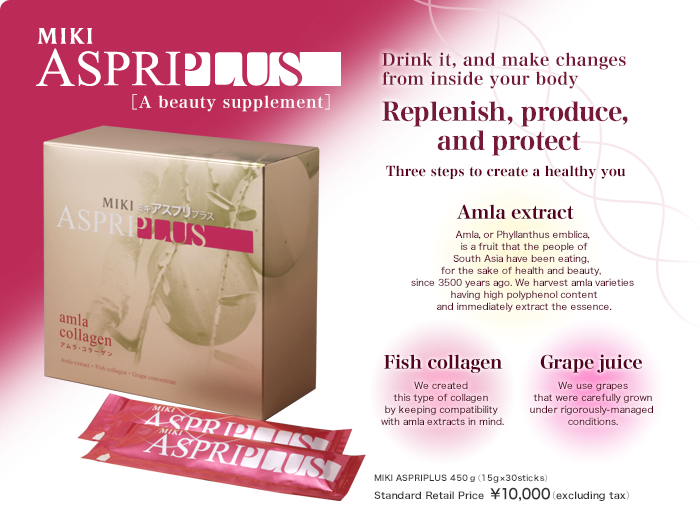 Replenish, produce and protectThe amount of collagen, one of the proteins that is used in the creation of a person's body, decreases with age. This is because the power to create collagen is lost as we age.

The three steps "replenish, produce, and protect" are essential. To provide these steps, we took note of the power which our bodies inherently have.


Take MIKI ASPRIPLUS, and make changes from inside the bodyAmla is a fruit that the people of South Asia have been eating, for the sake of health and beauty, since 3500 years ago. We extracted essences from amla's fruit, and combined them with fish collagen that was produced by keeping its compatibility with amla in mind.

And, to make sure that you can take it while enjoying its good taste, we added grape juice.


An MIKI ASPRIPLUS lifestyle, with additional ideasMIKI ASPRIPLUS, a liquid supplement, comes in a smart stick, so you can take it conveniently anytime, anywhere, either as-is or by dissolving it in water and other beverages.

There are many other ways to enjoy MIKI ASPRIPLUS. Please use it in your daily meals.


Ingredient analysis table
| | |
| --- | --- |
| Caloric value | 33kcal |
| Protein | 2.2g |
| Fat | 0g |
| Carbohydrates | 6.1g |
| Sodium | 3〜12mg |
| | |
| --- | --- |
| Raw materials | Grape juice, amla extract, fish collagen (gelatin-derived), citric acid, flavoring agents (including peach and apple) |
| Content | 450 g (15 g x 30 sticks) |
| Storage method | Store the product in a cool and dry place, away from direct sunlight or high temperatures. Be especially careful during summer. |
No artificial colorants or preservatives are used.
■How to take MIKI ASPRIPLUS
---
Take it either as-is, or by dissolving it in water and other beverages. Please come up with a variety of other ideas to enjoy it and use it in your daily meals.
■The amount of MIKI ASPRIPLUS to take
---
Take from 1 to 3 sticks per day.
■Precautions
---
The content may pop out when you open the stick package, so open it slowly and carefully. Be careful not to cut your mouth or hands with the corner of the stick or the opening slit.
Be sure to drink up the content immediately after opening the package. The content may show unevenness of color or deposits. However, this causes no problems with product quality.
Avoid drinking the product if you are allergic to any of the raw materials, or if you are pregnant or brest-feeding.
In rare instances, the product may not agree with you, depending on your constitutional predisposition or physical condition. In that case, please discontinue use.